The tradition of honeymoon is not just a vacation, but is also a special time where newlyweds can celebrate their new relationship in isolation. Known for its diverse geography and culture, India is one of the most sought after honeymoon destinations around the world. If you had been planning to spend your special time in the mystical land of India, here are some of the best honeymoon destinations in India:
Andaman Islands
Andaman and Nicobar Islands are a group of islands located off the east coast of India in the Bay of Bengal. The islands served as a naval port at the time of the British, but are known for their enchanting beaches and sparkling blue waters making them ideal for a honeymoon. The Andamans are full of romantic secluded hideouts and serene beaches that make them a great spot for newlyweds.
Book Andaman Tour Package 
Goa
Located on the shores of the Arabian Sea coast, Goa is one of the most prized beach destinations in India. The smallest state in India known for its exotic beaches and is one of the most attractive destinations for honeymooners and romantic couples. Goa is also known for its protected wildlife and natural areas making it a honeymoon hotspot like no other.
Alleppey
While the nickname Venice of the East is also paid to other places in India, Alleppey or Alappuzha is a picturesque coastal village with various waterways, beaches and canals. The honeymoon couples often have a houseboat stay at a very romantic moment in the midst of experiencing the backwaters of Kerala and enjoy has to offer the best of nature in the country.
Agra
The city of Agra is the home of the Taj Mahal, the eternal monument of love. The city is not only known for its historical significance but is also mentioned as one of the most romantic honeymoon towns in India. The city has a plethora of luxury hotels and resorts that are perfect for a serene vacation experience with your loved one.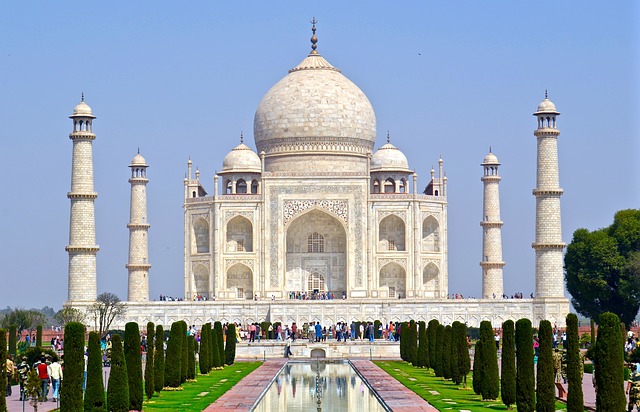 Udaipur
Also known as the City of Lakes, Udaipur is known as one of the most popular honeymoon destinations in India. The city is full of lakes caused by humans and various palaces and forts that add a touch of grandeur to the romantic atmosphere that surrounds the city. The best of them is indeed the Lake Palace or Jag Niwas, which is considered to be the most romantic hotel in the world.
Srinagar
The city is listed as the Kashmiri Venice because of the many lakes that surround the Srinagar. the city of Srinagar is situated at an altitude 1585 meters above sea level, is a perfect summer destination and is famous among honeymooners and newlyweds. Srinagar houses several romantic locations such as Mughal Gardens, Flower Gardens, Dal Lake and the most charming houseboat rides.